Runtz, Runtz, Runtz!
White Runtz, Pink Runtz, Gelato Runtz, Platinum Runtz, over 58 strains of Runtz! Never had it before?? Prepare to have your mind blown and your taste buds elevated! Runtz is a powerhouse. There's no other way to put it. She is the most popular cannabis strain of this generation and every time at Street Lawyer Services she is gone quicker than you can blink. You may find people saying this is Runtz, that's Runtz, but imitation is the highest form of flattery.
If her immense tastes and exciting effects weren't enough for you, her genetic makeup will surely seal the deal!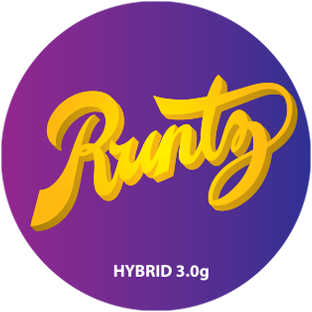 RUNTZ: GENETIC BACKGROUND
Runtz stems from truly legendary genetics. She's the progeny of two delicious parent strains Zkittlez and Gelato. A balanced genetic profile consisting of approximately 50% indica genetics and 50% sativa. Runtz is also noted for its creamy smoke that is smooth and welcoming alongside a euphoric and elevating high that lasts for hours.
Celebrated for its incredibly fruity profile that smells just like a bag of the sugary candy, the strain has resin-drenched buds that range in color from rich purple to lime green. Strain of the year for 2020.